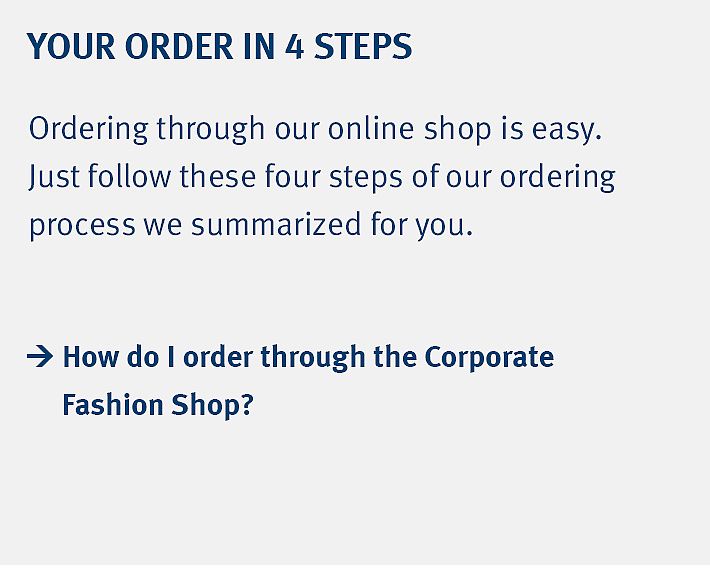 How do I order through the Corporate Fashion Shop?
CLICK ON BRAND SHOP:

Click on one of the logos to get to the desired shop. You can choose between Rheinmetall Automotive, Kolbenschmidt, KS HUAYU AluTech, Pierburg, Motorservice and Rheinmetall Group. After clicking on the specific shop, you will be given a complete overview of the range.

CHOOSE ITEM:

We offer a variety of different items, divided into Women's and Men's sections. You will find shirts, polo, blouses, accessories and even more. Some of the items are available in different price categories, colors and sizes. In the view, it is possible to display the wished item from four different perspectives. Just click on the desired item to show all of the specification options for your configuration.

DESIGN:

After you decided on an item, you can choose between two design options. Next to the product display you will find the tab 'Motives'. Click on the corresponding logo that can be chosen multicolor or, more decently, tone-in-tone. The second design option allows to choose a personalized text in the wished color, for example a certain location, the own name or specific division. The chosen design option will be adopted for other items by clicking on the tab 'Products'. Finally confirm the number of items and the size by clicking on 'Add to shopping cart'.

ORDER:

On the right side of the screen you will find your shopping cart with all of the added items. There will be an overview of your complete order including the number of items and wished logo. Please enter your address, choose a shipping and payment method, review your order – and in 3-5 working days your order will arrive.